The end of summer can be hard, especially for those of us that have spent the past 3 months lounging by the beach, traveling the country, or simply just relaxing at home with family and friends. But, fear not. The end of summer just means the beginning of cooler weather, Fair month, and a lineup of great activities here at the 1777 Americana Inn Bed and Breakfast and the Black Forest Brewery!
This weeks blog is all about getting you out of the "end of summer" funk and get you looking forward to the Fall time bliss that awaits you in Lancaster County. Let's first start off with, Fairs. If you've been following our blog, you'll have read all about the Berks and Lancaster fairs that revitalize the communities around the B&B in the fall. There are countless street fairs, country festivals, and local organizations that showcase the best Lancaster eats, drinks, and rides that are sure to fill that Summertime fun void in your schedule. Among the "must-go" to fairs, we have to show our bias and recommend the Ephrata Fair first… not only because it is within walking distance from our historic B&B, but also because it is the largest street fair in Pennsylvania. Chock full of rides, delicious traditional and non-traditional food, and an annual community parade that will blow your socks off.  This fair is the perfect excuse to book a room at the 1777 Americana Inn Bed and Breakfast and beat those end of Summer blues Ephrata Fair September 20 – 24 .  If you are looking for a good excuse for a weekend away and enjoy a bit of merriment, try booking your room and then take short drive to Mount Joy and enjoy the sights, sounds, and laughter of the Pennsylvania Renaissance Faire.
If fairs aren't your style and you're looking for a unique weekend or weeknight away, then the 1777 Americana Inn Bed and Breakfast and Black Forest Brewery have a variety of events coming up that are sure to catch your attention. Let's start with our new and improved patio! The 1777 Americana has spent the better part of the summer improving our outdoor area with new brick, outdoor kitchen, and firepit area, giving guests an area to sit and enjoy a glass of wine or a nice cup of coffee. This also means, that if you need to escape with girlfriends for the weekend or you are in charge of planning the next company retreat, the B&B can now accommodate outside events and special interest classes to enhance your stay!
We also have a great lineup of brewery events through October that will make perfect weekend surprises, birthday presents, or anniversary gifts! Here is a breakdown of what you can look forward to coming up at the Black Forest Brewery:
Saturday September 10th:  Performance by Two Pints Shy on the Trail Side Patio of the Black Forest Brewery.
Sunday September 18th : Kitchen Take-Over with Chef Melissa Graybill and Music by Tara Ludwig and Rick Carl. Book your stay and on Sunday still a little longer with us and enjoy a great selection of gourmet goodies from Chef Melissa Graybill and the musical talents of a great Berks county duo!

If Beer Festivals are your thing, definitely check out the Lititz Craft Brewfest on Sunday September 25th!  A short drive will put you right in the center of close to 100 breweries sharing their best brews!  http://www.lititzcraftbeerfest.com/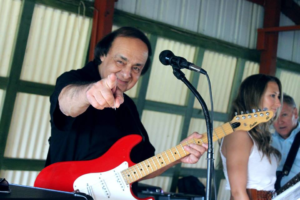 Sunday October 2nd : Event Venue Launch Party. This will not just be another Sunday around the 1777 Americana Inn Bed and Breakfast and the Black Forest Brewery, instead DeVine Destinations will transform the new outside area into three separate event venues, showcasing the unique potential of the 1777 Americana Inn B&B and Black Forest Brewery. If you book your stay, join us from 2-5pm with light appetizers, signature drinks, and an array of vendors that are sure to spark your interest in booking your next event right here at the Inn.
Sunday, October 16th: Chef Matthew Lykens and Fat Pineapple present Flavors of the Fall. Join us for this immersive dining experience as Chef Matt perfectly pairs Black Forest Brewery Tavern Ales with five courses of fall time bliss. This will be Chef Matt's 5th food & beer pairing at the Black Forest Brewery and trust me when  I say, his food never disappoints! Tickets are available for 1pm and 5pm seatings. $75 per person ( 5-course meal, 8ox beer sample with each course, and gratuity included). Seating is limited, so if  you've planning your October getaway, be sure to call and ask Denise to book you a seat!