About 6 years ago, my husband and I took a trip to Cape May, New Jersey. While strolling the downtown area we came across a tiny shop in the bottom of a beautiful old Victorian mansion.  I walked into this shop and I felt like I was walking into my mecca, it was filled with olive oils, vinegars, salts, sugars, dips, and gourmet foods…it was my paradise. This shop known as the Cape May Tasting Room was the first olive oil store I had ever been to and my taste buds were delighted. Since our trip to Cape May, I have drug my husband in and out of every olive oil shop I could find, including a very pleasant trip to Seasons Olive Oil and Vinegar Taproom in downtown Lancaster.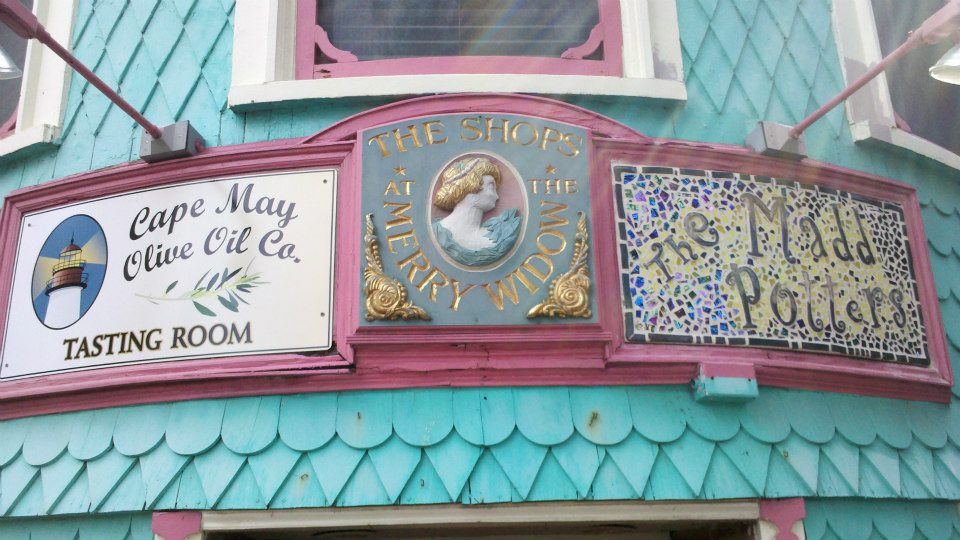 While at the Summer 2016 Fig Launch, I met Micaela Ferrari, a staff member at Seasons and she kindly invited me to the shop for an extended tasting and as we all know, I never turn down a foodie experience! Inside the pristine tasting room, you'll look around and see steel drums filled with authentic olive oils and vinegars. Owners Tim and Soraya Balshi have prided themselves and their store on its clean appearance, crisp olive oils, and friendly staff. Traditionally importing oils from Italy, Seasons does go off the beaten track with their signature "Family Reserve Escribano Estate" in Spain. This beautifully fragrant and bright green oil hails from Soraya Balshi's family olive grove in Spain. It's a high end well-crafted olive oil at a reasonable price and I'm of the belief that every person in the tri-state area should own this as a finishing oil!
But that's not the only product that sets Seasons apart from other stores in the area, this past summer they introduced a brand new product brought over from Italy by Tim Balshi himself. The product- Fruttato. What is Fruttato? Fruttato is a whole fruit balsamic vinegar and currently Seasons carries it in Lemon, Mango, Strawberry, and Raspberry flavors. This product was a whole new tasting experience for my husband and I, and as we combined the Fruttato with various other oils and vinegars, it became very clear why they have trouble keeping it stocked on their shelves. In fact, the product is so popular that the newly renovated Pressroom uses it as a main ingredient in not one but two of their new craft cocktails.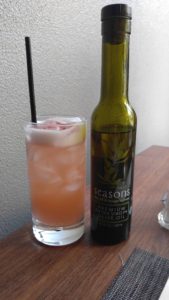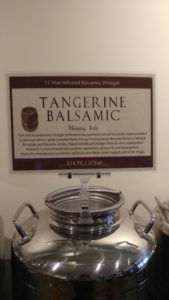 So what's the big deal? Some people might think if you've been to one olive oil shop you've been to them all, but it never ceases to surprise me the new flavors and combinations I find when discovering a new shop. Seasons was no exception, in fact my husband and I spent a good 45 minutes taste testing the various combination of oils and vinegars that the shop owners have personally put together. Some of our favorites and must-trys when visiting the store…
Rosemary Fused Olive Oil w/ Sicilian Lemon White Balsamic
Persian Lime Infused Olive Oil w/ Serrano Honey Vinegar
Roasted Walnut Oil w/ Red Apple Balsamic
Micaela not only introduced us to these great flavor combinations, but she educated us along the way as well. Did you know that balsamic vinegars are made from grapes and that all balsamic vinegars start as white vinegars; it is only after a minimum of 12 years of aging does the standard dark color appear. We also learned that Balshi family spends a couple months a year in Italy and Spain where they stock up on new (and very old) oils and vinegars and the other couple months going to food shows, finding the best salts, sugars, rubs, pastas, and gourmet condiments. It's a treasure trove of unique ingredients that are sure to make any extra special.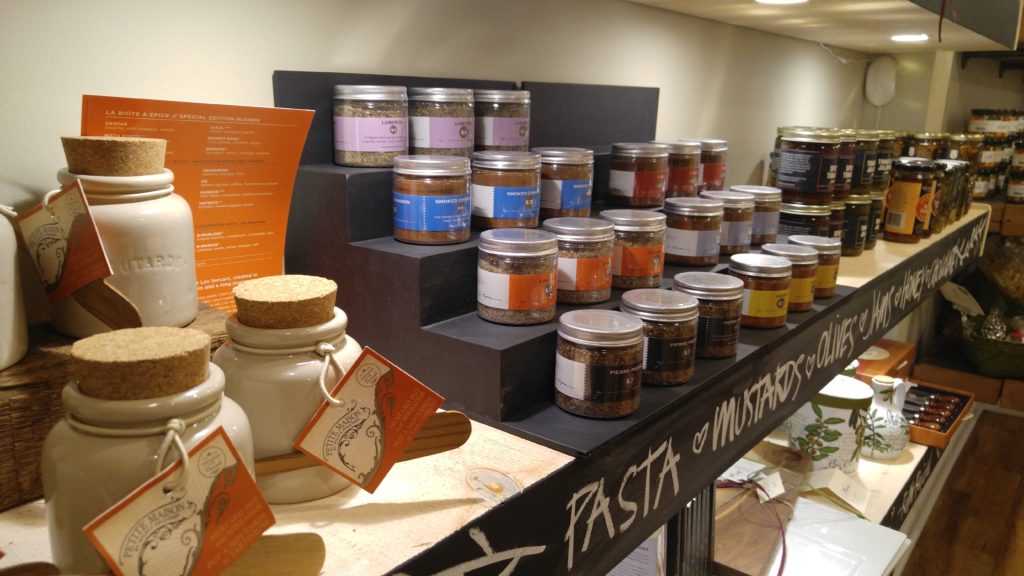 I cannot say enough about this store; I love it, I love the people, and I love the idea that these simple ingredients that come from all over the world are available to taste and take home. If you're planning your stay at the 1777 Americana Inn B&B, I highly recommend a trip to downtown Lancaster, experience Seasons for yourself and partake in a truly unique experience. If you're lucky, you might even catch a cooking class or demonstration by a local or world renowned chef at the store- check out their website or Facebook for these events!

Seasons Olive Oil and Vinegar Taproom