The holiday season is upon us, and many people begin to stress over creating and capturing the perfect holiday gift and getaway.  I personally believe the holidays are for family, friends, and gatherings, and should not be about trying to get everything done perfectly.  Honestly, does it really matter to anyone if the bow falls off the present or the ham is a tad cold when served?  Below are a few tips and tricks to help you enjoy the holidays this year and avoid the dreaded holiday stress.
1. Take Time For Yourself
The most important gift you can give your family and friends is a healthy happy you.  Plan a quick getaway – sure you can combine this getaway with a little holiday shopping and kill two birds with one stone, but get away! 
Like many small towns across the country, Downtown Ephrata is very special during the holiday season, and we would love for you to join us and experience the magic for yourself.  Following is a list of some of the areas delightful holiday experiences right here in Ephrata!  ALL of the listed things to do are within walking distance from the Inn. So, pack your bags, park your car and enjoy our town's beautiful holiday traditions.
November 29th – Ephrata's Annual Tree Lighting Ceremony begins at 5:30 pm and wraps up around 8:00 pm with a spectacular light show!

 

Hot cocoa, Horse Drawn Sleigh Rides, Cookies and the official lighting of the tree!

 

Downtown shops fill their windows with seasonal displays, and the streets are lined with beautifully lit wreaths!

 

My favorite time of year. The hardest part is driving down Main Street and not gaping at the beauty. So, book your room at the 1777 Americana Inn Bed and Breakfast, and take the stroll to the best of small-town USA's celebration of this special season.

November 30

th – From 5:00 pm to 8:30 pm – Candlelight Open House

Candlelight Open House Information

December 9th & 10

th  – Performances at 6:30 PM and 8:00 PM – Christmas at the Cloister is a holiday program that includes readings and music in the historical Saal. The program is on Monday, December 9 and Tuesday, December 10 at 6:30 pm and 8:00 pm both evenings.

 

Tickets and Information for Christmas at the Cloister

,

December 26th – 29

th – 6:30 & 8:30 pm –

 

Lantern Tours are special tours put on by our Student Historians, high school volunteers who take on roles and tell a new story every year. Tours run Wednesday, December 26 through Saturday, December 29. Tours begin at 6:30 pm and leave every half hour. The last tour starts at 8:30 pm.

Tickets and Information for Lantern Tours
Ephrata Cloister
The Ephrata Cloister offers even more unique and memorable events during the holiday season.  Each event is amazingly special and will set the tone for your holiday season.  Tickets must be purchased in advance and are limited. I promise you, these are very special holiday events that you will talk about for years to come!
2. Make Gatherings Simple and Elegant
Holiday gatherings are supposed to be about coming together to share time with the people most important to you, and yet we tend to drive ourselves crazy making sure every detail is perfect.  I enjoy entertaining, and my only goal is to make sure I am sitting down with my husband Bob at least thirty minutes before our guests arrive to relax and enjoy a glass of wine, and I meet this goal every time. Let me tell you how!
Lists, lists and more lists! 
I have one list that is my menu.  I identify what I am serving, the ingredients I will need and any serve wear, it sort of looks like this:
Baked Crab Dip (Prep in advance, heat 30 minutes before guests arrive)

Two Pounds of Crabmeat

Cheddar Cheese

Sour Cream

Cream Cheese

Seasonings

Pita Chips

Chafing Dish

Platter for Chips, Carrots, and Celery
My second list is my timetable.  I literally schedule all the items that can be done ahead of time and a timetable for the day of the party.  This eliminates last-minute scurrying around trying to get everything done in one day.
Know what you do well and stick with that! 
If you make a delightful beef barley soup, make this for your party. You may not think this is "elegant" enough, but homemade soup with a crusty loaf of bread and butter is perfect for the chillier weather.  Add a festive tossed salad topped with dried cranberries and croutons and boom! 
If cooking is not your thing, grab a rotisserie chicken from your local grocery store, slice it up, plate it with some garnishes and great bread and create a lovely sandwich bar.  You can also purchase a variety of cured meats, cheeses, olives, pickles, vegetables and create a beautiful charcuterie board complete with specialty mustards and jams. Wow your guests with the calamity of colors, textures, and flavors all on one beautiful platter or cutting board.
My favorite go-to plan is a "Snack and a Six Pack Party". We used to do this in our neighborhood when we were all young broke joke parents. It is still an incredible way to enjoy your friends and family. Everyone loves to show off their favorite snack, and by asking everyone to bring what they prefer to drink you will be saving yourself time and money.
3. Let It Go!
Nope, this is not an ad for the new Disney Frozen movie, it truly has become my mantra.  Let It Go!  I come from a large extended family and have beautiful memories of traveling from house to house on Christmas Day, celebrating the special holiday with friends and family.  From my Aunt Dot's, to my Aunt Ginny's, to my cousin Sissy's, with a quick stop at John and Betty's then back to my parent's house where everyone joined us for the end of the day card game. 
As much as these memories bring me joy, they simply are not happening any longer.  People have passed away, family has moved across the country and everyone is trying to enjoy some much-needed respite from incredibly demanding jobs and lifestyles.  Nobody seems to have an interest in running from house to house on the one day of the year that they can kick back and relax.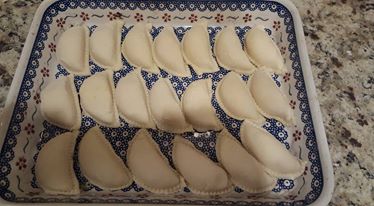 Bob and I struggled with sharing our three sons with the lovely ladies they have brought into our lives, but we have come to terms with the fact that they have their own lives now and are creating their own traditions and holiday memories.  We let go of some of our "family traditions" and have created new ones that fit better into everyone's lifestyle.  Enter Polish Day! 
The Saturday of Thanksgiving week we invite friends and family to our home and serve traditional homemade Polish food – food that has been served in my family for as long as I can remember.  Everyone looks forward to the day for many reasons. First off it's after Turkey Day AND before the busy month of December.  It's a drop-in day, so the no plan-plan is in full effect.  Although, this very busy day directly contradicts my "simplify" your party offerings, since I do enjoy cooking and entertaining, it fits right in to do what you do best!
4. Find Your Own Joy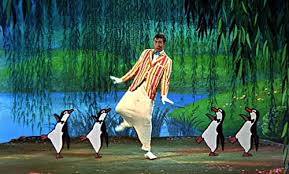 Everyone is different, and it is important to stay true to yourself.  If you prefer to enjoy the holiday season in your pajamas in front of a fire with a good book, spend the day doing just that!  If you crave the hustle and bustle of the shopping crowd, put your Santa hat on and join the fun! 
Last Christmas Day, Bob and I attended church services and came home to an empty home.  It was a tad weird, and people were feeling sorry for us, sending us "come on over" texts.  Weirdly, we were absolutely okay with the quiet. We made plans to walk up the hill to The Ephrata Main movie theatre and see the remake of one of my favorite movies of all time, Mary Poppins.  After the movie, we made a lovely dinner for two and enjoyed a bottle of wine and candlelight.  At the end of the day, we were relaxed, rejuvenated and peaceful. Try it, you just might like it!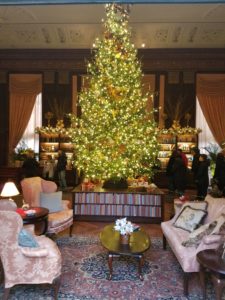 There are so many holiday-related activities in the area for you to enjoy and all of them will send you home from your Lancaster County getaway with a smile.  Feel free to call the 1777 Americana Inn B&B. I would be delighted to help you plan your holiday getaway!  Maybe you would enjoy a day trip to Longwood Gardens for their SPECTACULAR floral and light displays.  Or hop a train at the Strasburg Railroad and find your family's Christmas tree.
You can finish up your holiday shopping at Kitchen Kettle Village and enjoy the stroll through the decorated streets and shops.  Or catch a Christmas performance at Fulton Theatre, The Ware Cente, or Sight and Sound.  Better yet, book your room at the 1777 Americana Inn right here in the heart of Lancaster County and enjoy quiet time reflecting on all your blessings.  We hope to see you soon!
Book Now