When it comes to wine, I can pinpoint the exact date and location I fell in love. October 12th, 2010 at a grand little vineyard called Hilltop Berry, twenty miles outside of Charlottesville, VA. My husband had surprised me with a weekend away at The Mark Addy Bed and Breakfast (highly recommended if you're in VA visiting) and we decided to explore the 20+ vineyards that surrounded our home for the weekend. We had our doubts because neither of us really drank nor enjoyed wine before this weekend, but oh boy did that change. We took our first couple sips at Hilltop and we were hooked (case in point by the 10 bottles we left the vineyard with that day). The rest of the weekend was spent tasting and relaxing amongst the vineyards and eclectic wineries and when it sadly came time to head home, I was officially a changed woman. Since that weekend I have made it my mission to experience and enjoy as many of the local vineyards and wineries as possible.  So sticking with the Berks county theme that has been the past few weeks, here is my list of the best grapes in the area!
Blair Vineyard (www.blairvineyards.com)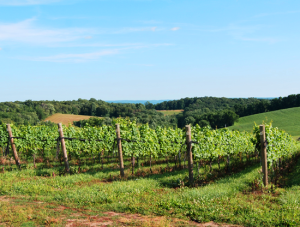 A definite fan favorite in my household, this place is the full package- beautiful scenery, great staff, and most importantly delicious wine. Nestled in the mountains of Kutztown, the Blair family has perfected the Pinot Noir grape, and if you don't at least go there and try one of their two varieties, shame on you. Also on the must-try list here is an unusual blend called Metamorphosis that stands true to its name and changes flavors as it sits in your mouth. If you are planning your trip to the 1777 Americana a few weeks in advance, check out Blair's website for their monthly Winemaker's dinner.

Vynecrest Vineyard & Winery (www.vynecrest.com )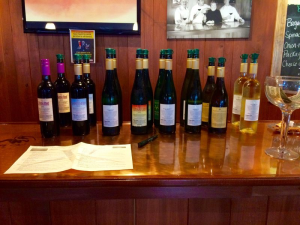 Technically part of the Lehigh Valley Wine Trail, this vineyard is a good 50 minute drive from the 1777 but definitely worth the trip! Variety would be the main reason to visit this vineyard with a wide selection of sweet, dry, and fruit wines the diversity of flavors is sure to please everyone. Must try wines here include their Autumn Blush Blend, #36 Blend, Chardonnay, and Cherry DiVyne dessert wine. While homemade food is okay to be eaten on their picnic benches outside, the tasting room has a small selection of appetizers and cheeses that can be enjoyed as you drink your bottle with family or friends inside. Also new to the winery is their "Private Tasting Experience" in their Barrel room- this is a reservation only experience but definitely worth it for the one-one interaction.

Manatawny Creek Winery (www.manatawnycreekwinery.com )
We discovered Manatawny this past summer when they began advertising their 'Music Saturday" events that quickly caught on throughout the Berks county wine community. Hosting different food trucks and musicians every Saturday has helped this Douglasville winery expand at a fast rate. Now they have a 50 person deck where you can enjoy a packed lunch and a great selection of PA grape varietals. Must try wines here include their Vidal Blanc, 2012 Syrah, Cabernet Franc Port, and their house made Z-Z-Zangria!

Ridgewood Winery (www.ridgewoodwinery.com )
Berks County's newest vino addition and the fastest growing of any winery I have ever been to! Ridgewood is located in a beautifully restored 1700's farmhouse in Birdsboro, PA. Owners, Bill and Tracy Smith, started as amateur wine makers in their home in Lancaster and when the property went up for sale, they couldn't pass by the opportunity for Bill to expand his hobby and start their second careers. Ridgewood hosts a variety of events throughout the year including music concerts, ice cream pairings, cork painting classes, and come November they will be hosting their first 4-course wine pairing, featuring Fat Pineapple Catering. A definite must visit if you are heading down to Reading for the day!

Allegro Winery  (www.allegrowines.com ) And last, but certainly not least! Allegro Winery, who is the current supplier for all of the wine we serve at the Black Forest Brewery.   We chose Allegro for several reasons, first of all they are truly great people, from the sales reps, to the tasting room staff, to the winemaker himself, Carl Helrich.  When you visit their tasting room you will be welcomed with a hearty hello and a selection of wines that will make your head spin (especially if you try tasting all of them)!  Allegro has been making wine since 1973, so you might say they have it pretty well figured out.  Currently they grow nine varieties of grapes and recently expanded their vineyards from six to twelve acres.  The soil in the part of Southern York County is perfect conditions for their crops and they are very devoted to the quality grapes they produce.  Sweet wine, you bet . . dry wines, delish and pretty much everything in between. . . stop by the Black Forest Brewery and taste for yourself, Allegro means lively in musical terms and the company and their name reflect their brand.