It constantly astonishes me when I'm talking to people who love to travel and they say one of two things to me 1) we don't stay at bed and breakfasts and 2) oh we never stick around for breakfast if we do stay at a B&B. I mean, come on people…you have not lived until you have experienced the unique peace a good bed and breakfast brings to your travels. And lucky for me, I just so happen to work for one. So I now make it my mission in one fail swoop to change the hearts and minds of some of the biggest B&B skeptics.
3 Reasons Why You Need to Visit the 1777 Americana Inn B&B
( or any B&B for that matter) 
YOU GET BREAKFAST….ALWAYS.
My husband and I love to travel and when we're not staying at my parent's timeshare, our travel nights have been spent at an eclectic array of bed and breakfasts. We have stayed in Victorian mansions, beachfront bungalows, rural PA historic homes, and still in all of the wonderful places that we have visited, the best part is the breakfast. The key to a great B&B breakfast is that you know you're getting a meal cooked by people who love what they do and have probably been cooking those recipes for many years thus, the result is always delicious. Here at the 1777 Americana Inn B&B, Denise cooks up a hot meal every morning for guests including homemade breads and muffins, yogurt with local granola, and don't forget the fresh Lancaster County fruits. Guest favorites include her vegetable frittatas, apple cobbler French toast bake, and Amish Breakfast Cakes. For those who have allergies, innkeepers are always happy to adjust their menu and include breakfast options that will appease everyone.


We love Smitten Kitten for breakfast recipes, check out this NYC native's small kitchen recipes!
EVERY ROOM IS DIFFERENT.
Another appeal to B&B's for my husband and I is that we never stay in a copycat room, every stay is different. We have been in sailor, Moroccan, spa, wine, and patriotic themed rooms, all offering unique venues that make our stay memorable. If walking into a room with a bed, standard desk, ugly cabinets, and an old ironing board sounds appealing to you, by all means head to your local hotel but if you want that unique feeling when you step into your home for the night, bed and breakfasts are definitely the way to go. The 1777 Americana Inn Bed and Breakfast offers 6 different rooms, each appointed perfectly by the beautiful antiques and design of the room. There are romantic suites equipped with large whirlpool tubs and lush robes, there are cozy suites that make your stay feel more like home with comfy couches and warm colors, and there are suites that immerse you into the local Lancaster heritage with Amish knick-knacks, antique furniture, and gorgeous quilt hangings. You can't go wrong with a room at the 1777 Americana Inn Bed and Breakfast, but our personal favorite is Primitive Place which features a whirlpool tub in a side room surrounded by the original exposed stone from the 1777 structure.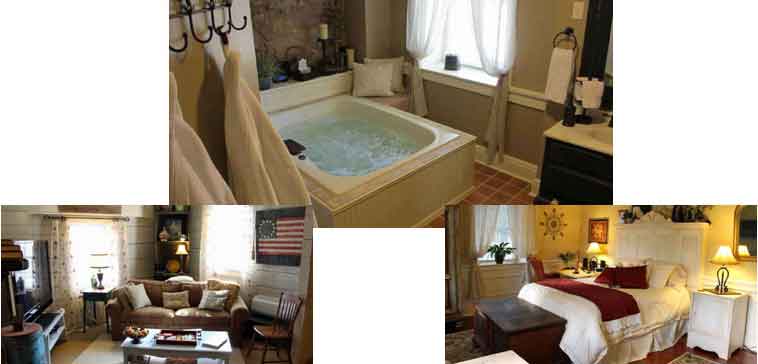 INNKEEPERS ARE SOME OF THE MOST INTERESTING PEOPLE YOU WILL EVER MEET.
The first bed and breakfast my husband and I ever stayed at was The Mark Addy in the rolling hills of the Blue Mountains of Virginia. The innkeepers, Leslie & Rafi, were some of the most accommodating and friendly people we had ever met as a couple. They talked our ear off about local restaurants, vineyards, history, but also shared many stories about previous guests from all over the world. I'm telling you innkeepers have it made, they need not travel the world because it comes to them, and with the world comes some of the best stories you will ever hear. Get a good innkeeper, like Leslie or Denise and Bob and you will spend your breakfast laughing and smiling as they regale you with guest stories and experiences. If you stay at the 1777 Americana Inn Bed and Breakfast, not only do you get the pleasure of breakfast with the innkeepers but you can stroll over to their on-site brewery and enjoy an evening with the staff and their tales. I think talking to innkeepers might be my second favorite part of choosing a B&B over a hotel because it truly gives you that one-on-one experience not found by standing at a hotel lobby front desk.
So, if those three reasons haven't convinced you to stay at a B&B, whether it's the 1777 Americana Inn Bed and Breakfast here in Ephrata, PA or anywhere else in the world, then you'll just have to keep reading our blog every week which makes our case as to why B&B's always reign supreme !