Last weekend I had the pleasure of becoming the guest Innkeeper at the 1777 Americana Inn Bed & Breakfast and oh boy did I have fun! I know I've talked a couple times about my love for the B&B experience and being able to see the other side of the operation, I'm even more in love. My chance arrived when Denise and Bob approached me about wanting to take a well deserved vacation to Atlanta to visit their youngest son, I naturally agreed right away. I couldn't think of a better way to spend what was a "do- nothing" weekend, so my husband and I cleared our vacant schedules and moved ourselves into the historic home for 4 nights!
Since I have helped with breakfast before and currently do work at the brewery, I wasn't hesitant about the experience, but I can see where some people might be nervous about the awkward interaction that can happen with people you have never met before. But, this isn't me… I thrive on social interaction and was looking forward to meeting our guests from the time I took the job. The weekend went as smoothly as I could have imagined, breakfast never burnt, the guests left smiling, the wash was laundered, and the house was still standing when Denise and Bob returned Tuesday evening. The experience left my husband and myself seriously considering the innkeeper life after we raise our family.
Below are a couple highlights from my weekend and a BIG thank you to Denise and Bob and all of our guests for making this experience possible!
Favorite Breakfast Moment: When a wonderful group of guests (who have been vacationing every month with each other for over 15 years) brought a 4-pack of champagne to breakfast to make their own mimosas! Duh, why did my husband and I never think of that…. it's on the to-do list for our next B&B definitely, thank you Louise and Gloria for such a great idea!

Favorite Guest Story: I feel like I became part of the family talking to all the guests at breakfast and in the brewery, but my favorite story was from a couple who traveled from New Jersey for the simple pleasure of just getting away. They are avid cyclists and had a beautiful day to ride throughout the Lancaster County roads, they told me that it was the most scenic and peaceful ride they had ever been on – they didn't see one car for over 45 minutes and when they did see transportation it had 4 legs and a buggy attached. They couldn't stop smiling about the ride and how it felt to come back to a beautiful house that felt like home afterwards. Loved that I could help to make that happiness possible.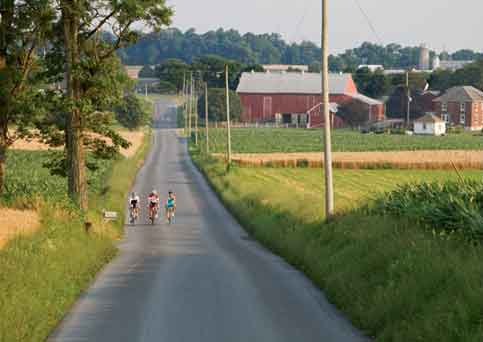 Favorite Inn-Keeper Perk: The Jacuzzi, Oh Baby the Jacuzzi…need I say more.
Favorite Recipe: 5- Vegetable Frittatas, and because it was my favorite, I'll graciously share the recipe with everyone!
Recipe for 2 servings
Ingredients:
Asparagus (1/8 cup)
Portabella Mushroom (1/8 cup)
Baby Spinach Leaves (1/8 cup)
Sweet Onion ( 1/8 cup diced)
Sun-Dried Tomato (1/8 cup cut into piece)
Asiago Cheese ( Shredded) ( 1/2- 2/3 cups)
Eggs ( 4)
Light Cream ( 1 tablespoon)
Salt/Pepper ( to taste)
Parsley ( Fresh or Dry- use 1/3 less if using dry)
Garlic Powder (pinch)
Directions:
Preheat oven to 350 degrees.
Prep asparagus, onion, and mushroom. Sauté on medium until soft. Leave sun-dried tomato and spinach cool.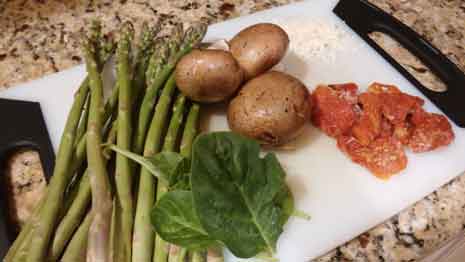 Prep egg mixture by whisking 4 eggs, light cream, Asiago cheese ( reserve some to top frittata), salt/pepper, parsley, and garlic power in a medium size bowl.
Spray a small oven safe ramekin to prevent sticking and layer vegetables in starting with the sundried tomatoes, cooked vegetables, and the spinach. Pour egg mixture over vegetables filling bowl 2/3 of the way full.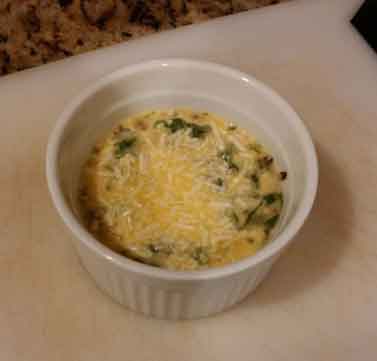 Top frittata mixture with remaining cheese and additional seasonings if you wish.
Bake frittata for 30 minutes at 350 degrees, checking periodically.
Frittata is cooked when puffed up and rounded over the top of the ramekin, should be slightly brown. Optional: top with an infused olive oil for an extra special taste – I used Basil/Garlic on ours!
Serve with toast and bacon for a great start to the day!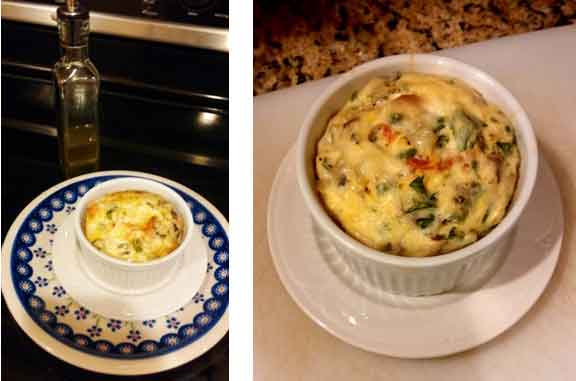 Thank you Denise and Bob for all the hard work and prep you did to help make my guest inn-keeper weekend a true success, you're the best!