This summer has been HOT. So hot that I feel it is my solemn duty to report how we can beat the heat. So besides jumping into a large body of cold water, what better way is there to cool off than with ICE CREAM!  Ice cream – the quintessential frozen treat of the summer, the master of sugary ceremonies, the rewarding dessert at the end (beginning or middle) of a long hot summer day, ice cream is definitely the answer and this week I made it my plan to find the best frozen treats around Ephrata.
Let's start closer to Berks County, a short ride from the 1777 Americana down 272 to Adamstown, you'll find a place that Guy Fieri would only describe as a trip to "Flavortown"- Boehringer's Drive-In. Boehringer's has been a Berks and Lancaster seasonal fan favorite for over 70 years and it's staple counter service and outdoor seating make it a true summertime memory for many people. But let's get to the important stuff, how many flavors of ice cream does this place have? The answer, 21 flavors of hard homemade ice cream. What's my favorite, you ask…well that would be the homemade butter pecan. This ice cream has everything you'd ever want in a butter pecan, it's smooth, the pecans are fresh, and as it melts in your mouth, I can never help but feel as if I'm being transported back to childhood. The best part about Boehringer's, aside from the countless sundae and milkshake flavors you can also create, is that is completely affordable. You and your sweetheart can have creek side seats, a full meal and dessert for all under $20! When it comes to drive-ins, the only thing this place is lacking is the rollerblade waitressing and big screen movie, otherwise, it is darn near perfect for a summertime cool down.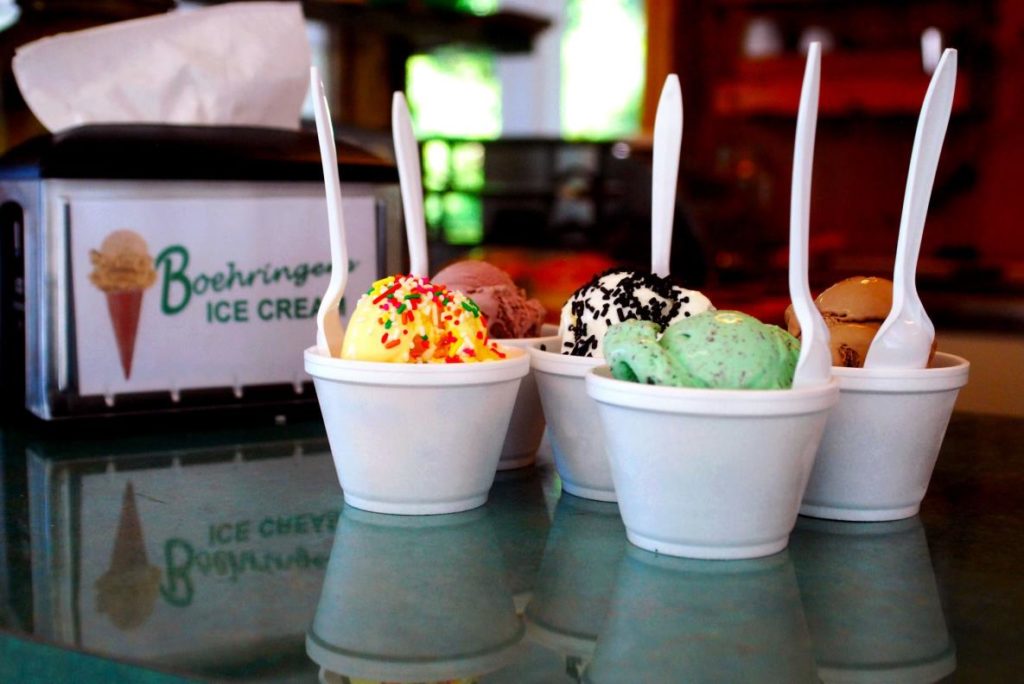 Now, let's head the opposite direction and head west on 322. According to the general Ephrata population, you are one of two types of ice cream lovers, you're either an Udder Choice fanatic or a Fox Meadows Creamery enthusiast. Both stops, provide you with the tasty frozen treat you're looking for, but differ vastly in their flavor and reputation. So let's discuss which type of person you think you are.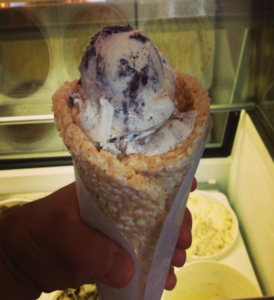 First, we have Udder Choice a popular ice cream stop only to be enhanced by it's delicious homemade Lancaster mealtime staples. You can find food like soups, turkey & chicken salad sandwiches, baked blueberry pies, and we can't forget the always wholesome Lancaster breakfast all made by scratch every morning. But again, let's not focus on the savory, instead let's drop our mouths and drool over the rotating 90 different flavors the Udder Choice offers (usually 30 in the case). You can make countless sundaes with their rich and creamy flavors, or you can leave it up to the staff to surprise you. I don't blame you, when I encountered so many flavors it was hard to choose, best to leave it to the pros I always say! The most surprising aspect to my trip was the addition of a completely new type of ice cream cone, we're all used to the standard sugar cone, waffle cone, but have you ever had homemade ice cream in a RICE KRISPIE cone, if not…it must be put on your bucket list instantly.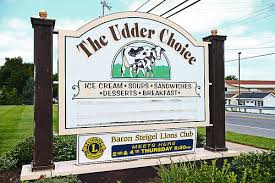 So I made the case for the Udder Choicers, now we move to the people who love what I'm calling the Farm-to-Table ice cream shop. Fox Meadows Creamery and Country Market is an astonishing display of what true Lancaster County ice-cream is about ( I may be bias and say I fall into this crowd). You can follow their entire process from "Cow to Cone" and know that the ice cream you are currently licking off your fingers is from the cows down the road. It has been made with Lancaster County crops, milked from Lancaster County cows, and created in the creamery to produce a superior flavor of ice-cream that I had never encountered before. It reminded me of being at the ocean, pulling a crab out of the water, boiling it, and devouring it within 30 minutes.   While the ice-cream process takes a bit longer, the freshness of the Fox Meadow product evokes that same feeling. While not creating as many flavors as its other two counterparts, Fox Meadows does take you to "flavortown" from its Classic Wilbur Chocolate flavor to the more nontraditional Chocolate Covered Applewood Bacon. I think I died and went to heaven; bacon, chocolate, and ice-cream all in one place, it's a sweet & salty lover's paradise! Fox Meadows also features a country market section, where you can find local canned favorites, pastries, gourmet popcorn, and some of Fox Meadow's other signature items.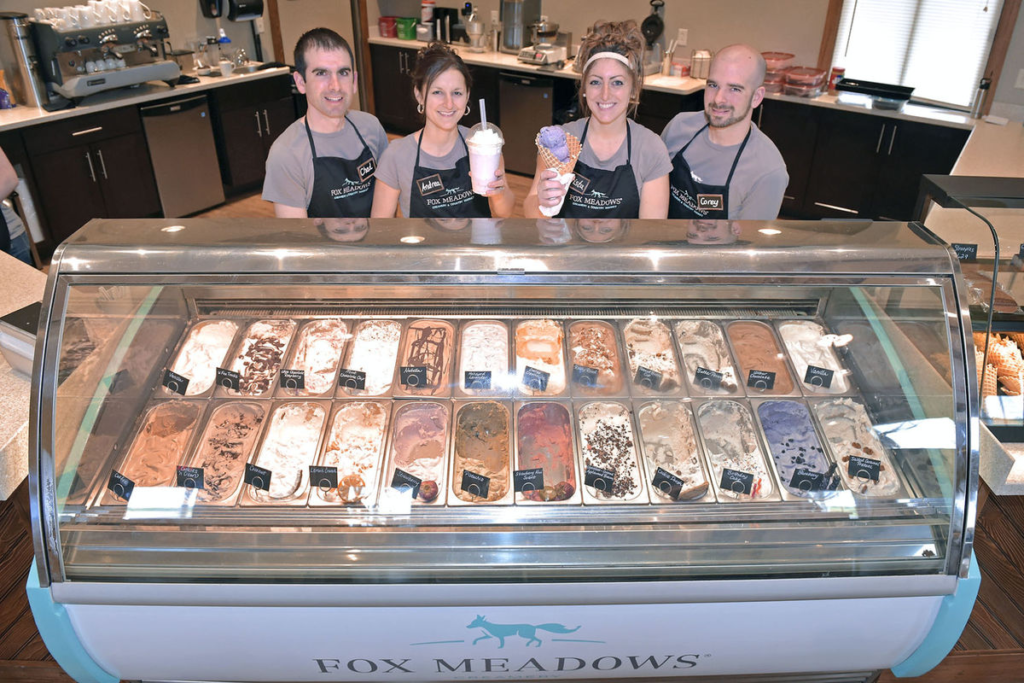 So we've hit 3 amazing ice-cream places, but before I could finish this blog, I felt I needed to add one more place that features ice-cream's cousin, gelato. At Javateas cafe, you'll find a small selection of gourmet Italian gelatos. I can't describe these treats as anything more than a cross between Italian ice and rich creamy ice-cream. Served, with a paddle like spoon, the half frozen gelato makes for the perfect morning, afternoon, or evening snack. My personal favorite is a mixture of the mango and raspberry, but you can go crazy with flavors like pina colada and mint chocolate chip! I feel, the gelato is a bit underrated in an area known for such amazing creameries, but I would still put it on the list if you're around town and need a cool down dessert!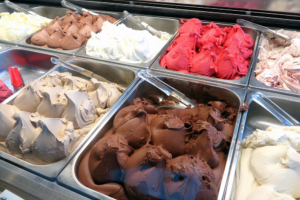 So I say, in the midst of the summer heat, take my ice-cream tour to heart during your visit to the 1777 Americana and explore the flavors of Lancaster county, it won't disappoint!