Fall is notorious for a few things. Cool breezes, the start of football, and PUMPKIN. It seems to me the last couple of years, the pumpkin craze has exploded, exponentially. It's pumpkin spice this, and pumpkin spice that, you see pumpkin EVERYWHERE! And this is where I take issue. Don't get me wrong, I love a good pumpkin cappuccino or refreshing pumpkin beer every now and then, but this craze has molded an object  that once represented the fall season into so little and basic, I feel it my solemn duty to write this blog and remind people what the pumpkin  is all about.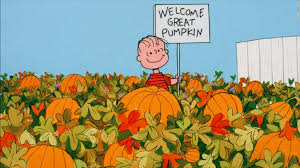 So let's talk pumpkin. First, a few fun facts about this rotund squash :
Did you know that:
Over 1 billion pounds (450 million kgs) of pumpkin are produced in the US every year
The name pumpkin comes from the Greek word 'pepon', meaning 'large melon'
Pumpkins are popular decorations during Halloween. A carved pumpkin illuminated by candles is known as a 'jack-o-lantern'. The tradition is believed to have come from Ireland, where they used to carve faces into turnips, beet and other root vegetables as part of the Gaelic festival of Samhain.
Six of the seven continents can grow pumpkins including Alaska! Antarctica is the only continent that they won't grow in
Pumpkins were once recommended for removing freckles and curing snake bites
The largest pumpkin pie ever made was over five feet in diameter and weighed over 350 pounds.
Native Americans used pumpkin seeds for food and medicine

And now that we're a bit more knowledgeable on this orange member of the Cucurbita family, let's talk about how we have lost sight of how pumpkins truly capture the spirit of the fall season. Once upon a time, pumpkins were utilized by the Native Americans as a source of food, medicine, and connection to their land and family. As time passed, the lore of pumpkins took many shapes including its connection to the supernatural.  The Irish ( as mentioned above) first started the tradition  of warding off evil spirits with the of carving of pumpkins, an act that is today that most popular reason to visit your local pumpkin patch. Pumpkins just in the early 1990's stood a connection for me, not to the land, but to my family. They invoked this sense of tradition that allowed me to enjoy the coming of the cool weather, and not focus on the fact that school had begun and winter was coming. But over time, the pumpkin (or rather its flavor) have been morphed into the poster child of the fall season and have been taken advantage of, causing people to lose sight of the real magic of this squash.

So I dare anyone who is reading this blog, to take a step back from your overly spiced pumpkin coffee and read this list of MUST -GO spots below. These locations will hopefully remind you of what fall time should be about, family, friends, and a sense of connection to the land that has provided for your all summer long. I have taken advantage of the beautiful weather in the past week to visit these locations in and around Berks and Lancaster County just so I could attest to the fact that there are some people out there who still remember that picking a pumpkin means more than a picture for instagram.

Brecknock Orchards – This sprawling orchard a ½ hour ride from the 1777 Americana Inn B&B is in its' full glory this time of year. Fresh flowers, tomatoes, and peppers still bloom in the garden. The trees are full to the brim with over 20 types of apple varieties, the fields are littered with every type of pumpkin you could imagine and the smell of fresh apple cider donut and applesauce are in the air. They feature a fall festival every Saturday of October that highlights the fruits of the fall season, with demonstrations, wagons rides, and strolls through the orchard. I highly recommend this be put on your list of go-to places,  not just for the atmosphere but to witness the droves of families that still honor the tradition of a child picking their first pumpkin!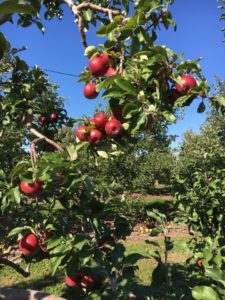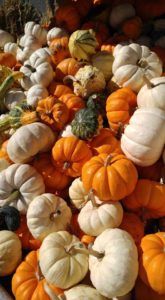 Cherry Crest Adventure Farm – Pumpkin picking is just one the many activities this location can provide. Make Cherry Crest Adventure Farm one of your stops and enjoy a corn maze, wagon ride, hay bale shoot, and a great family friendly farm animal center! If you stop by on a Saturday, make sure you take some spare clothes along and channel your inner child while making your very own scarecrow or stroll through the garden to pick your mums and fall plants!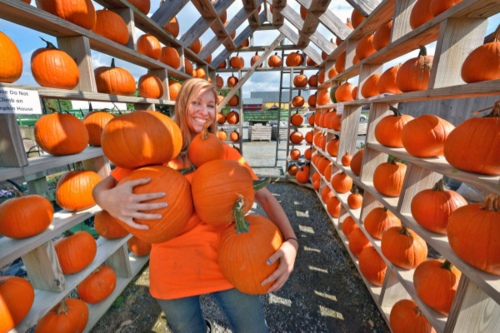 Country Barn Market – This 3rd generation working farm exudes family values and hard work. Fun activities include pumpkin picking, wagon rides around the 10-acre field, and a 5-acre corn maze. We do make the recommendation to stop at Country Barn Market at night to participate in their flashlight corn maze, an experience that will revert you to childhood and bring back the feelings of your first fall festival with family and friends.



So next time you think fall time is defined by the pumpkin spice iced coffee that Dunkin Donuts so graciously releases in the beginning of August, I urge you to stop at one of these locations in the middle of October. You will be gently reminded that family values still exist within all ages, and you may even surprise yourself when you sit down, pick up a carving tool and begin to relive your childhood. Happy Halloween and we look forward to seeing you this fall season at the 1777 Americana Inn Bed & Breakfast!