Let's play a game, what is the first word that comes to mind when you hear the phrase Bed &
Breakfast? Is it…comfort, homey, luxury? How about when you hear  the word, Amish? Is it…old world, horse and buggy, religious? Well today, after a particularly long weekend, I found myself thinking about another phrase, BEER. Yes, beer…when I think of beer I think of hot summer days, friends, cookouts, fun and many laughs.. All of these combined continue to give me an excuse to explore more craft breweries to find the perfect beer to suit my current mood. So this week, we're going to talk all about one of America's favorite pastimes, drinking craft brews.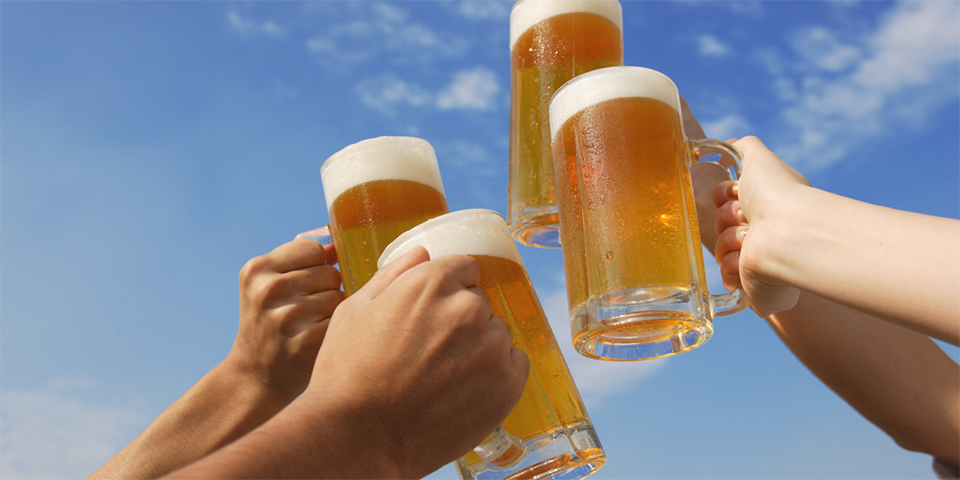 This is a pretty easy blog for me to write, since we have a brewery situated on our premises, but I don't want to spoil the surprise for those wanting to visit Black Forest Brewery, so instead I'm going to talk a little about my recent adventures in the craft beer world. Cue, my last weekend.
It was the epitome of a picturesque fall day with a slight breeze, beautiful blue skies & fall clouds, and 70 degree weather that everyone in the area has been dying to see. Where was I you ask;  why I was serving delicious booze nectar to the masses at the annual Lititz Craft Beer  Fest. A festival, which has quickly become one of the fastest growing beer fests in the area selling over 2000 tickets within a 2 day period. Over 60 vendors from all over the east coast migrate to one of America's Coolest Small Towns to sip and chug down delicious craft beer.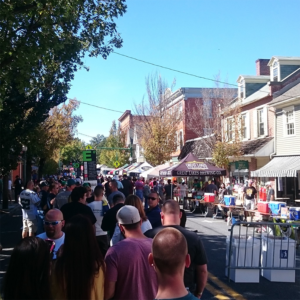 A little back story, I never used to like (or appreciate) beer, then of course I took a job at the 1777 Americana Inn Bed and Breakfast  and Black Forest Brewery and my mind was quickly converted.  Bob's True Tavern Ales were unlike anything I was used to drinking (think Budweiser, Miller Lite, Coors :Liight) and I grew to appreciate a beer that tasted like what beer was actually meant to taste like. So naturally, when I attended my first beer festival at Mount Hope earlier this year, I was shocked at the various flavor profiles and the talents of local and nationwide brewers.  My intrigue with beer festivals has only increased and that is how I found myself standing behind our patriotic stand this past Sunday serving people who share my love for everything beer. If you've never been to a beer festival, I HIGHLY suggest it, if not for the beer then definitely go for the people watching. It will be one of best times you'll have, and I was completely sober.
If you need more convincing about attending this or any other beer festival, let's review some of the highlights.
If you have a favorite brewery ( I love DuClaw, SweetWater, Columbia Kettle Works) then take a peek at the beer list and find out if your favorites are going to be featured at the festival.
If you have a least favorite, it's more of a reason to go and give them a second try!
People are everywhere….. Attending a beer festival with friends can become a favorite annual trip, or a surprising weekend getaway. Conversation is light, beer talk is heavy, and tongues always loosen as the hours go on, which makes finding friends as easy as picking grapes at a vineyard.

It's a time to talk to your favorite brewers. The best part of my day is meeting new people, hearing their opinions about the festival and our beer, and giving high fives to some of our regulars who stop by the stand.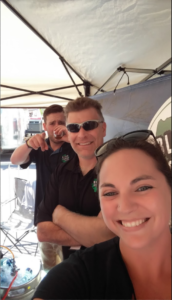 The Food. There is always plenty of food at a beer festival, and it's not the healthy diet kind either. We're talking stick to your ribs, good eatin' food. This past weekend, Lititz Beer Fest featured a sampling of scrumptious eats like Lobster Mac & Cheese, Stuffed Belgian Waffles, Cuban Sandwiches, and smoked BBQ. Placed strategically, the food stands can help to pace your drinking and sober you up for the second half of the festival!
Every festival is different. I don't think you'll ever go to two beer festivals that are exact copy cats of each other. Within the Berks and Lancaster Counties in the last year, there have been over 15 different beer festivals, some focus on specific styles of beer, some on location, but they all bring something different to the table. I like the Lititz
Beer Festival because it is a simple path down the street with an organized concept, plenty of great food, and a unique "Homebrew" competition where local homebrewers can bring their product to the table and play with the big kids on the block.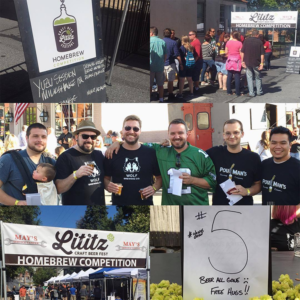 If I haven't convinced you yet, then let's just discuss one last thing. You get lots of free stuff. Stickers, coasters, t-shirts, glasses, pretzel necklaces, and you can sample until your heart's content   (or at least until the last call bell rings).
So if you've been to a beer festival, I may ask you what is the first word that comes to mind, and 99% of the people will respond, drunken shenanigans. . And while I cannot disagree, my mind still reverts to words that bring a smile to my face like conversation, laughter, and unexpected friends because those are what I have experienced at my beer fests so far. Yes, I may have also experienced being the person to break the glass and have the crowd call me out, I may also be the person that visits the DuClaw Brimstone tap a bit too often while working, but HEY it just makes for another memorable day.
If you are interested in staying at the 1777 Americana Inn Bed & Breakfast and would your stay to correspond with a local brew fest, here is a great link that will provide you with a list of 2016 and 2017 Brew Festivals to watch out for! I suggest signing up for the BeerFests.com newsletter too, this will help you never miss another Brew Fest in your area again!
So by now, if my blog has done what it should have … if someone asked you what is the first thing that comes to mind when you hear "weekend getaway"… you should definitely be thinking Black Forest Brewery and the 1777 Americana Inn B&B , the only Lancaster County B&B that has a "Room With A Brew"! Happy Drinking!