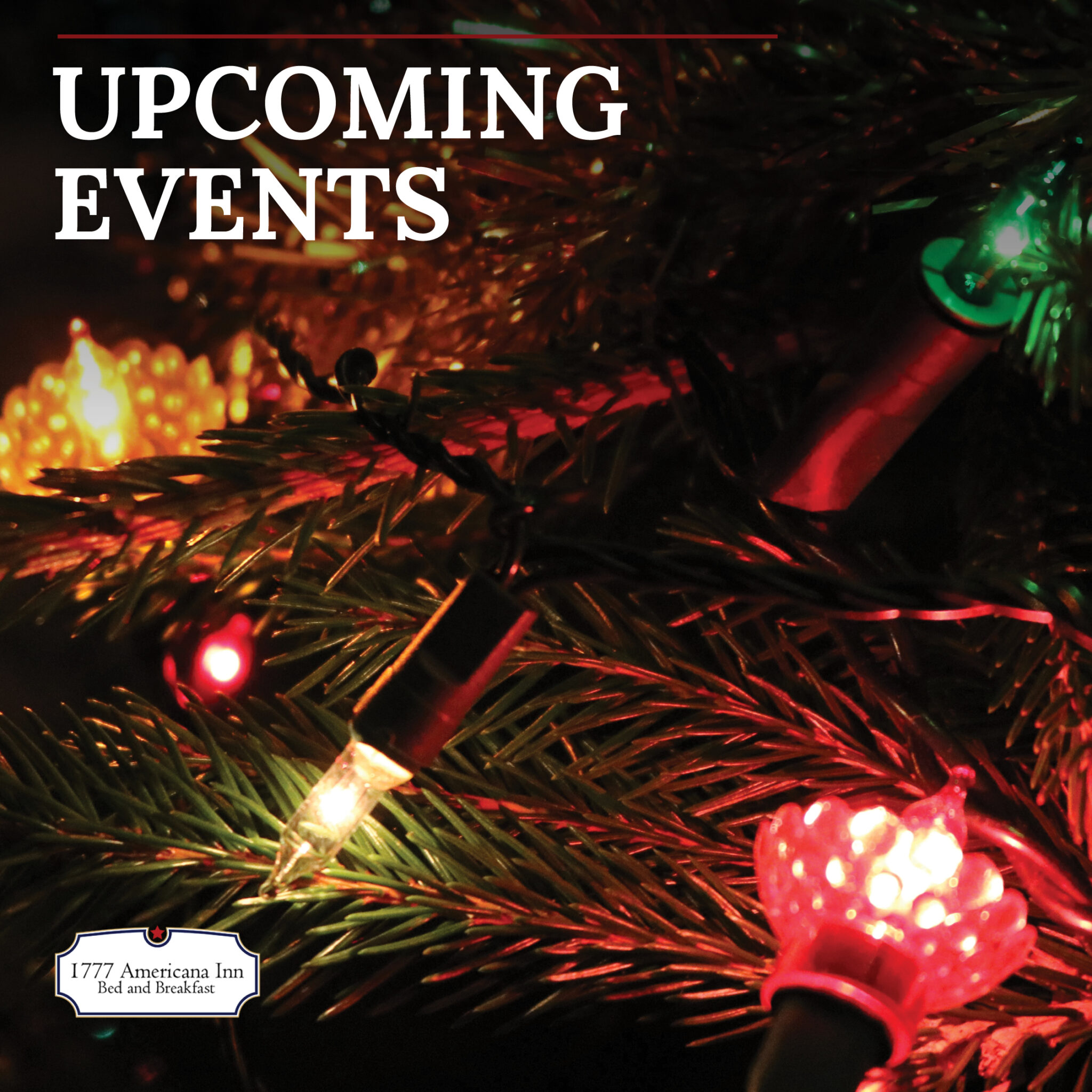 Winter is just around the corner! Make sure to reserve a room for the holidays, we're filling up quickly.
Here are some of this month's seasonally appropriate attractions:
Events to Visit For
November
Veteran's Day Luminary Trail 2022: November 11th, 2022
The mainspring of Ephrata's Winters Leadership Memorial Committee will continue the tradition they began on Veterans Day 2014 and will host a moving Luminary Tribute to those who have served.
https://mainspringofephrata.org/event/veterans-day-luminary-trail-2022/
Santa's Arrival & Tree Lighting: Friday, November 25, 2022 (within walking distance)
Our Ephrata tradition of Santa's arrival and tree lighting continues. Mainspring of Ephrata is taking this event to new levels! Many families look forward to this special evening and making precious memories each year. We will also welcome the Belsnickel. You won't want to miss it!
https://ephratachristmas.weebly.com/#/
Candlelight Open House: November 26th, 2022
Walk the candlelit paths of the historic site and tour the buildings, listen to the music, and visit with craftsmen. Admission $7.00 for everyone age 3 and above.
https://ephratacloister.org/events/candlelight-open-house-2/
Christmas In Ephrata – Holiday Makers Market 2022: November 26th, 2022
The mainspring of Ephrata Christmas Committee is hosting a Holiday Crafters Market! We want to support LOCAL crafters and businesses and get their selling season off to a great start!
https://mainspringofephrata.org/event/christmas-in-ephrata-holiday-makers-market-2022/
December
Jingle Bell Tour: December 9th, 2022
The Jingle Bell Tour is BACK for the ninth season! The mainspring of Ephrata cordially invites you to this special community event.
https://mainspringofephrata.org/event/2022-jingle-bell-trolley-tour/
Christmas at the Cloister: December 12-13, 2022
Spend a few moments in quiet reflection with seasonal readings and holiday music in the historic Saal. Two programs are offered each night, one starting at 6:30 p.m. and the other at 8:00 p.m.
https://ephratacloister.org/events/christmas-at-the-cloister-4/
Lantern Tours at the Cloister: December 27-20, 2022 (These sell out extremely quickly)
These special tours don't tell the full Ephrata story but take you back in time to visit with a special story. Each year offers a new story with a cast of junior and senior high school students playing the roles that bring history to life. The one-hour tours start every half-hour each night and reservations are required and can be made by calling the Visitor Center at 717-733-6600 beginning December 1. Admission charged.
https://ephratacloister.org/events/lantern-tours-5/
Ephrata Unexpected ~ New Year's Celebration 2022: December 31st, 2022 to January 1st, 2023
On Saturday, December 31, Mainspring of Ephrata is hosting its first-ever New Year's Eve Celebration from 9:30pm – 12:00am! The Square in downtown Ephrata will come alive to ring in the New Year!
https://mainspringofephrata.org/event/ephrata-unexpected-new-years-celebration-2022/
---
What to Do While You're Here:
Local Flair:
Check out a movie: The New Main
A newly revitalized movie theater showing first-run movies & offering live concerts, with event space & a restaurant.
https://www.facebook.com/TheNewMain/
Experience the Amish Farmhouse: Come out to Old Windmill Farm for an amish farmhouse experience in the farm kitchen, baking homemade bread, and churning butter from our own cream. Of course, taste and devour it all afterwards!
https://www.oldwindmillfarm.com/services/seasonal-activities/
Local Theatre:
Sight and Sound Theatre Presents: David
Master Poet. Fearless Warrior. Anointed King. From still waters to shadowed valleys, David's ascent to the throne is filled with towering giants, wild animals, and Philistine soldiers. https://www.sight-sound.com/shows/lancaster/david/2022
The Dutch Apple presents Elf
Based on the 2003 hit movie, Elf introduces us to a young orphan named Buddy, who mistakenly crawled into Santa's bag of gifts and was transported to the North Pole. Raised by elves his entire life, Buddy doesn't know he is actually a human. When his enormous size and poor toy making ability cause him to face the truth, Buddy embarks on a journey to New York City to find his birth father and discover his true identity. https://dutchapple.com/our-shows/main-theatre-2022/
The Fulton: White Christmas and A Christmas Carol
The Fulton Opera House, also known as the Fulton Theatre or simply The Fulton, is a League of Regional Theatres class B regional theater located in historic downtown Lancaster, Pennsylvania. It is reportedly the oldest working theatre in the United States
Food:
Tour downtown Lancaster and try local foods with Unique Experiences
Lancaster Unique Experiences offers a fun and exciting way to explore Lancaster's diverse downtown culture and food. https://www.experiencelancasterpa.com/
Taste loads of food and wine at Lancaster Festival of Food, Wine & Spirits Join us in celebrating 20 plus years of TASTE! at this annual festival of food, wine and spirits created with the discerning taste buds of the Lancaster region in mind. This premier food and drink event is designed to appeal to the novice, intermediate and advanced wine and spirit enthusiast.
https://www.discoverlancaster.com/events/taste-lancaster-festival-of-food-wine-spirits/
Explore The Strasburg Railroad: Wine and Cheese Train:
Enjoy the luxurious, climate-controlled First Class accommodations and a tasting of select wine, cheese, and crackers as you travel in style down the tracks to Paradise, PA, and back (total trip time is 45 minutes). https://www.strasburgrailroad.com/dine-aboard-the-train/wine-cheese/
---
On Going Events
Enjoy each our Lancaster county's unique downtown areas with several reoccurring monthly cultural events.
Second Friday's in Lititz: https://www.discoverlancaster.com/events/second-fridays-in-lititz-1/
First Friday's In Lancaster: https://www.discoverlancaster.com/events/first-friday-in-lancaster-city-2/
First Thursdays in Manheim: https://www.discoverlancaster.com/events/-1/