Ho.Ho.Ho. Infamous words that ring in the ears of everyone earlier and earlier every years. It seems as I grow older, the holiday season become longer and longer with every birthday candle.  When I was five, it started December 1st, when I was 15 it moved to mid November, but now at 26, the holiday season has officially reared its magical head the day after Halloween. Most people are against this, not sure if they just want to give the in-between Thanksgiving holiday its shining moment or they can't stand the commercialized and over priced stores taking advantage of this joyous season. The one good thing that comes out of this early merriment is that the 1777 Americana Inn Bed & Breakfast Americana Inn Bed and Breakfast gets to brag about some of the best seasonal sales and packages offered throughout Lancaster County County. So if you plan on visiting Lancaster County this winter season and want the heads up on some great bed and breakfast packages, shows, shopping, and fun things to do, this blog is your gift from Santa.
GO-TO B&B Package:
Obviously, because this is our blog and I'm bias, I have to showcase the "Dreaming of Breweries' package at the 1777 Americana Inn Bed & Breakfast Americana Inn Bed & Breakfast. This package is for the beer loving couple who needs a little extra love in the form of hops from Santa this holiday season. The 1777 Americana Inn Bed & Breakfast is one of only a handful of B&B&B ( Bed and Breakfast and Brewery) in Pennsylvania and the only B&B in Lancaster County that offers such a unique package. With the help of our on-site brewery, Black Forest Brewery, the 1777 Americana Inn Bed & Breakfast created a package that not only gives you your very own Black Forest Brewery paraphernalia ( 2 Black Forest Brewery pint glass and 1 Black Forest Brewery Growler), but a tasting credit at the brewery, a Lancaster County Brewery Trail Guide, and assorted snacks for your beer tasting pleasure. This is truly a unique combo that will make your night ( or nights) at the 1777 Americana Inn Bed & Breakfast memorable and tasty!
'Dreaming of Breweries Package can be added to any night's stay for only $50.00. Click here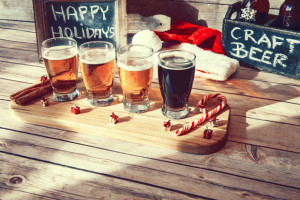 GO-TO Shopping:
Shopping, the curse word to some families and the holy grail to others, and boy does Lancaster County thrive at shopping. Our go-to recommendation for this holiday season would be the Tanger Outlets, where you can find deals, deals, and more deals every week up until the New- Year. Shop Tanger outlets website today to find out all of the great sales they have going for this holiday season! Click here for special coupon offers.
GO-TO Entertainment:
Entertainment is far from lacking in the Lancaster County with large venues such as The Dutch Apple Dinner Theater, Sight & Sound, The Fulton, American Music Theater. All of these venues are showcasing great holiday classics from The Christmas Story, The Christmas Carol, Elf, and A Christmas Miracle, but our go-to choice for this holiday season is torn between two other local favorites. The first, Hershey Park Christmas Candylane- a whimsically lit path with over 4 million lights at the sweetest place on earth. Starting November 13th, Candylane is open most days until 9pm and includes holiday coaster rides, sweet treats, and of course a trip to see Santa.  Only 45 minutes away from the 1777 Americana Inn Bed & Breakfast, this night out will be full of sparkly lights and chocolate goodness.
Check out times and tickets, click here:
Our second favorite holiday location is Longwood Gardens. This romantic and beautifully decorated conservatory is adorned this year with thousands of  blue and white twinkling lights, whirling fountain features, thousands of seasonal plants, and a bounty of trees with  icicles. The sight leaves you breathless and would make for a romantic night for any couple looking to embrace the holiday spirit during their stay at the 1777 Americana Inn Bed & Breakfast.
Check out hours, show times, and ticket prices here:  .

We could go on and on about the endless wonders Lancaster County has to offer this holiday season but what would we talk about next week, check back for our recommendations for eating, drinking, and merriment in the next couple weeks! In the meantime, here's a funny video to get all of your bahumbugs in the spirit! Click Here