Food Envy, it's a real thing people. Most accurately described as the moment you receive your food, look over and see your friend's selection and wish you had ordered that instead. I've experienced this many times, and it becomes particularly frustrating when you narrow down your choice to two selections and when you get your food you realize you made the wrong choice. Frustrating, aggravating, all the words that enrage the hulk to turn green are what food envy does to a person. BUT, I'm here to tell you there are ways to curb this emotion and remain calm and collective during your meal out.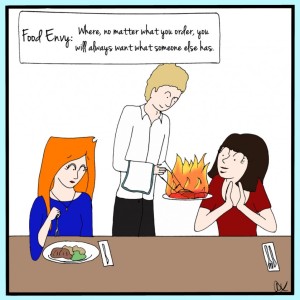 If you're hungry for something, just get it. Don't let diet, time of day, or peer pressure drive your decision- if your body is craving chocolate, go ahead and order that piece of cake because if you don't and watch the waiter walk by with it to another table- food envy will most definitely strike. Same thing applies to the stigma that if 'we're watching our weight" we have to order the greens- but what really want is steak. Just curb your appetite but getting the 5 oz. steak instead of the 12oz., this will keep your food envy in check and still make a delicious and healthy meal.
DON'T DO DINERS! Diners are like the ultimate challenge for people who suffer from food envy, why you ask- they have like A MILLION choices. It can be a nightmare to a person that can't choose what they want to eat because there are 6 pages of menu options. It is a proven fact that restaurant with a limited menu or who enforce a "no additions/change" policy are going to be more satisfying to a customer than a restaurant with 100+ choices. This rule that  has guided my "inner-foodie" these past couple years- when traveling I search for eclectic restaurants that stay simple but do what they do well. Notably in Lancaster, I would recommend a few places that follow this mantra: The Firepit Kitchen + Bar (a Mediterranean fusion restaurant in Manheim known for their kebobs and great couscous), Ma(i)son ( Farm-table masterpieces created in an open style kitchen in downtown Lancaster), and La Borimex ( a great Mexican dive on route 322 that makes authentic tacos and Latin dishes).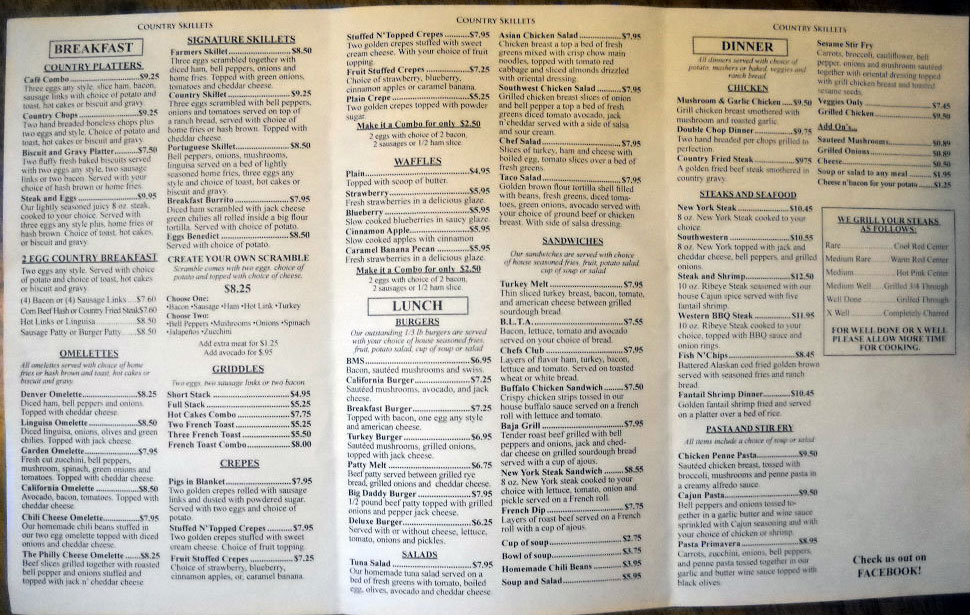 Just like in school, go with your first choice- don't erase the bubble at the last minute and change your answer. If you've made up your mind, close the menu and push it as far away from you as possible. I hate when I do this to myself, but it's even more painful watching as your dining partner makes the ultimate sin. Just suggest once, minds have been up that the menus be taken away or places on the other side of the table to avoid the temptation to look. Chances are if you're torn between two very different options, the one that comes out of your mouth is going to be the correct selection.
Our on-site brewery – Black Forest Brewery is all about following these rules to create a small but delicious menu for guests. As the just celebrated their first year anniversary, Black Forest Brewery turns its eyes to the future of the pub and making the next year just a successful. In its first year- Black Forest featured a small array of snacks from hummus/pita bread to Italian stuffed poppers, in the New Year fan favorites such as the soft pretzel and meat cheese board will remain but they'll be adding in a PA Dutch platter, chips+ salsa, and a more varied hummus platter.
Paninis, salads, and various soups also made the list for the first year, created using local ingredients and long-standing family recipes. In the next year, Black forest will be mixing up its Dollar Dog night on Thursday to Taco Thursdays where they will be featuring 2 beef tacos, chips, and salsa for $3.00. Also on tap for the New Year will be affordable meal Sundays where various paninis, soups, and salads will be available for $5.00. Don't worry though, fan favorites from this year including the "Ham and Apple Butter panini" and "Denise's Chili" will be showcased throughout the next year!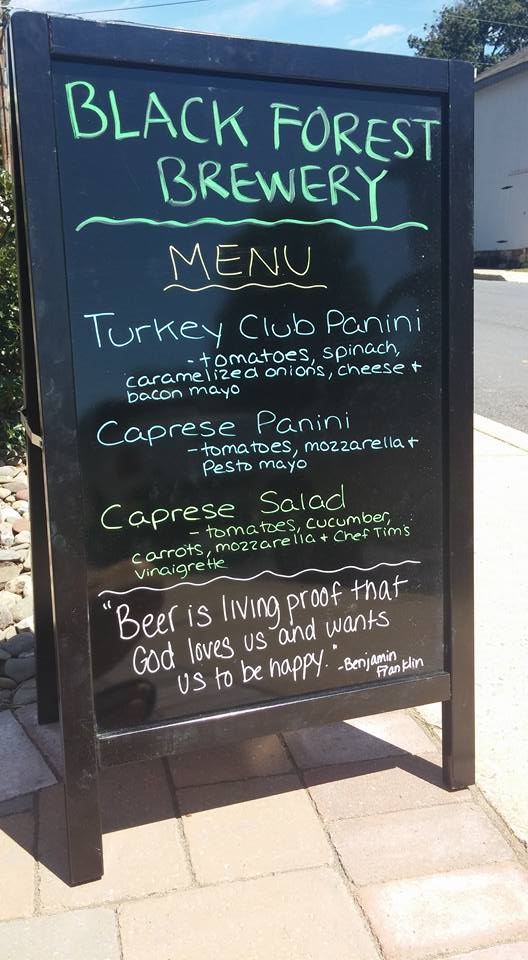 For more on food envy check out this great website that will make you hulk out with jealously while sitting at home staring at your computer screen! http://foodenvytv.com/