So last week we talked all about my love for Berks County and the great places to visit during the day, this week it is all about the nightlife! In the 5 brief years I've been truly able to enjoy the nightlife in Berks County; I've discovered some very enjoyable events and venues! Combine the fact that Lancaster is Berks County's neighbor makes this information even more exciting!
If you are on the fence about your stay in Lancaster County, let this blog be a guide for you. The fact that these two great counties are so close to each other, choosing the 1777 Americana Inn Bed and Breakfast is an obvious choice, providing you easy access to the best of both worlds. Not only can you use this blog as a reference, but inn keepers- Denise and Bob Harter love to refer people to their favorite spots in their hometown. So book your room, call-in your dinner reservations, get your entertainment tickets, and enjoy the Berks county nightlife that I have grown to love!
Obviously, being that I'm an avid foodie, let's start with the restaurants.
I've spent my New Years Eve for the past 3 years celebrating in a grand ole' fashion at Stokesay Castle- a unique fine dining experience atop Mt. Penn inspired by a 13th century English castle. While my nights at the New Years Eve gala may be a bit hazy, I've spent countless other evenings enjoying the food, service, and atmosphere atop the mountain. They have two sections for dining, a formal dinning room and a causal bar (The Knight's Pub) where the window doors open in the spring and summer and a fire pit is lit during the fall and winter months. Food recommendations for this special night out include their Champagne Scallop Soup, Pan Seared Sea Bass, and the PEI Mussels appetizer.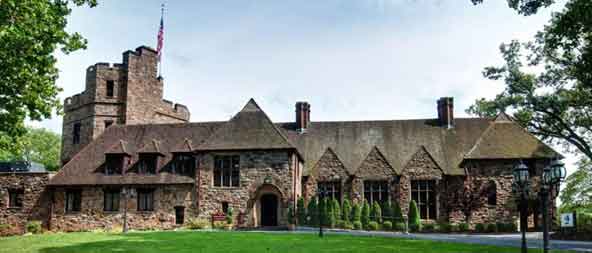 Stokesay Castle
Another wonderful spot for dining in Berks County is a local favorite and a true hidden gem in the back streets of Mount Penn, Anthony's Trattoria. If you like Italian food, this is your place…no if, ands, or buts. Celebrating its 20th year in business in 2016, Anthony's is the true essence of a mom and pop restaurant with an expansive and impressive menu that seems to rotate specials everyday. You don't think much of the place because it literally sits between residential houses in the back of Mount Penn, but inside you're transported to an Italian grandmother's dining room with knick knacks, a beautiful old bar, and checkered table cloths. The menu, like I said is expansive and can be a bit overwhelming for first timers. But don't fear, I'm going to tell you a little secret…by-pass the menu and go right to the special pages because it is filled with pure magic. Bread, cheese, soup, meat, seafood, pasta, dessert, cocktails… Anthony's special menu has it all. My personal favorite (aside from the fresh bread and zeppoli you get at the table) is the Escargot in a marsala wine sauce and a veal dish that comes with the most tender veal chop stuffed with prosciutto, Italian cheese, spinach, and is topped with a decadent mushroom cream sauce. It's about a 30 minute drive from the inn, but the food, atmosphere, and friendly Italian waitresses (who remind you of your grandmother) are so worth it!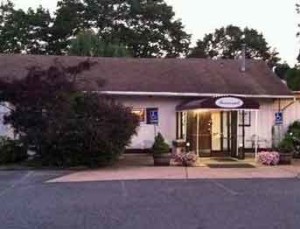 Anthony's Trattoria
Now if it's entertainment you seek, Berks County is home to the Santander Arena and Performing Arts Center. The 8800 seat arena opened originally in 2001 and has hosted over 2200 events from ice hockey games, beer festivals, and music concerts, just to name a few. The Performing Arts Center also draws a large crowd weekly with performances by theater programs, comedians, musical guests, and inspirational speakers. There is always something going on at these venues, and if you time your stay at the 1777 Americana right, coming up you could see Willie Nelson, Rodney Carrington, The Reading Royals, D.L. Hughley, and in November the returning sold out show from Tran-Siberian Orchestra. Check out the link below for all of the events coming up at the Santander venues!
Santander Arena
Other great places to visit in Berks County for entertainment at night include Reading GoggleWorks, Reading Art Works and The Works & Building 24. These venues have special events, private screenings, art galleries, and games going on all the time. If you are looking to let off a little steam and just have some fun, head to Slick Willy's, an indoor go-kart racing track inside of The Works, and race the night away.
Slick Willy's Karts & Eats
Goggle Works Center for the Arts
Reading Art Works