Three years ago I was blessed to marry my best friend and go on amazing honeymoon with him to the Caribbean islands. While there we snorkeled, walked the pristine beaches, and decided to zip-line through the jungle of the Dominican Republic. We thought, why not… we're here and when are we going to get to zip-line through a jungle again. Well my husband had other thoughts as we stood 800 feet above the ground about to jump off a tiny platform and hurl through the jungle at an incredible speed, his thoughts were more like "there is no way on earth I am stepping off this tiny little platform to my untimely death", but he did and we made it and it was incredible. The scenery, the speed, the thrill, the waterfalls, needless to say we made a lifelong memory that day. So, naturally when I found out (most recently) that there was this incredible thrill seeking adventure right in our Lancaster backyard, I had to go.
I am of course talking about Refreshing Mountain, "a year round retreat adventure center which provides family friendly fun and refreshment." Located just a 12 minute drive from the 1777 Americana Inn Bed & Breakfast in Stevens, PA Refreshing Mountain makes you feel as if you've been transported to a hidden oasis. There are cabins, dining halls, tent sites, a public pool and nature center all on top of the camp's well known adventure center complete with high and low ropes course, 2 zip lining tours, team building obstacles, and hiking trails galore. I was so impressed by the pristine appearance of the retreat, the grass was meticulously trimmed, the roads clear of any debris, and the trails cleaned and easy to hike.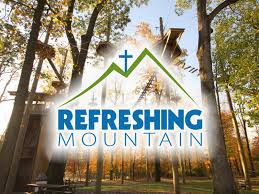 But enough about appearance, you're not reading this blog to hear about trimmed grass and clean roads, let's get to the good stuff. While it may not have 800 feet off the ground and through a jungle, zip lining through the familiar wooden forests of Lancaster held its own unique charm and thrill. I was fortunate enough to be guided by Mark and Brook, both veteran zip-liners and avid nature lovers. Mark suited me up with my harness and all the wonderful clips and doo-dads that keep you flying through the forest safely, while Brook walked me through her love for teaching and organizing group building events at the retreat. All suited up and ready to go, we took a short walk and climb to the first platform. My excitement was building as I stepped up and looked forward at my first zip-line, a short trip to the next platform but thrilling all the same. I looked ahead, crossed my fingers and stepped off the wooden plank and flew through an open area to the second platform.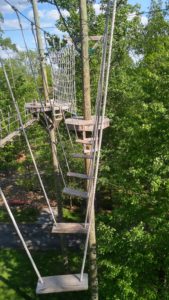 Here is where the true adventure starts
Welcome to the high ropes course. If you've never had the opportunity to complete a high ropes course, I highly suggest it… UNLESS of course you are overcome with nausea and dizziness at the thought of being 40-feet up in the air walking across open wooden beams and swinging planks, then maybe just sit this portion of the adventure out.  I won't divulge every detail of the next 30 minutes of my life but it did involve being utterly scared, lots of hand cramping, much encouragement from my guides, and an overwhelming feeling of pride at the end. I'll let the pictures walk you through some of the aspects of the course, but let's just say walking across the sky bridge at the end is a welcomed prize! My overall suggestion for the high-ropes aspect of the tour is to at least try the left side of the course which is less physically demanding than the right, if you make it through and want to continue, GO FOR IT!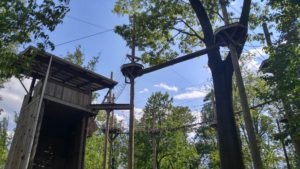 Once the high ropes course was done and my hands had a chance to regain feeling, Brook and Mark hooked me up and we continued our adventure through the rest of the zip lines. Each line you encountered offered a different experience whether it was the surrounding scenery, the height, or the length of the line. At its peak, the Challenge Adventure course takes you 60 feet into the canopy with a total of 5 zip lines while the second Ariel Excursion Course takes you 80 feet into the air and through 7 zip lines.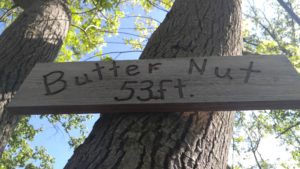 After a few exhilarating rides through the vast amounts of tulip poplar trees, I found myself on the last platform looking down over the beautiful pond and ahead at an uphill runway. I must admit, the sight downward was much more pleasant than the site ahead, but my guides talked me through the proper landing that would bring us back to ground level. Jokingly they informed me that if I didn't feel like running when I hit the ground, I could simply sit down and help them remulch using my hind end, I thought they were kidding, they were not. I enjoyed the breeze and scenery of my last ride but upon approaching the ground I quickly realized I was not prepared for the running aspect of this adventure, my legs gave out and I gracefully slid my hind quarters up the hill grabbing mulch, dirt, and losing a bit of my pride on the way. It sounds bad, but honestly it provided a good laugh and memorable ending to my great adventure.

I want to give all of my adventures at Refreshing Mountain their shining moment, so we'll save the second half of my journey for next week! I hope this blog has opened your eyes to the adventures Lancaster holds, especially only a few minutes' drive from our quaint B&B and next time you're considering a trip that you contemplate some fun at Refreshing Mountain! For now, I leave you with only one suggestion- make sure you wear comfortable pants, because boy do those harnesses ride up!
P.S. IF YOU THINK YOU'RE TOO OLD TO ZIP-LINE…THINK AGAIN.