In continuing with my theme of promoting the small quaint town in which the 1777 Americana Inn Bed and Breakfast resides, this piece is dedicated to the ever uniquely named, Main Street. Before we begin our stroll down the large sloped hill of Ephrata, might I just take a minute to give you a quick fact, as of 2010 there were approximately 10,466 streets called Main Street in the U.S.A. In fact, people have actually done studies on what classifies a main street to be named "Main Street." In reviewing these articles and studies, there are several points (of which you could already assume) the collectors of this information make:
Number 1: The street is in fact the only street of the town, thus appropriately entitled Main Street.
Number 2: The town may be of larger size, but the center of town where the shopping, entertainment, and political gatherings are the main hub of activity, again appropriately entitled "Main Street"
Number 3- Starting to get on the bit obscure side of naming streets, some towns find that by identifying a street as " Main Street" they are better able to give direction, partly because as a whole, larger US cities have a main street that is also a U.S. Highway ( thus Main Street America- Route 66).
( There is a great movement to document Main Streets throughout the U.S.A. called "Mapping Main Street". I encourage everyone to check out the website and take part in this small grass movement which promotes small towns and explores the characteristics that make every Main Street different)
So what category does Ephrata's Main Street fall under, why conveniently it falls under all three. The 15-block drag that runs straight through the center of Ephrata's main hub of activity is also a designated highway, Route 322. At one point, this road, was the only street leading to the Ephrata Cloister, a religious community compound in the 1700's. In  Ephrata's prime, you could walk down main street and enjoy high fashion clothing from Doneckers, bank at the prestigious Ephrata National Bank, or you could stroll into Royer's Pharmacy and know the service you received was the product of generations of this family run business. What can you expect of our small town's Main Street today you may ask . . .read on!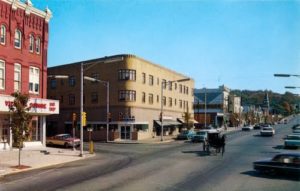 Obviously, Ephrata proudly is the home to one of two B&B&B (Bed, Breakfast, and Brewery) in Pennsylvania!  Yes indeed, when Denise and Bob chose Ephrata to launch their plan to open Black Forest Brewery onsite of a Bed and Breakfast, they joined a very elite group . . only one other establishment in Pennsylvania exists with this unique concept.  Working with Ephrata Borough to launch this concept in this nostalgic town was a dream come true for the Harter's and an indication of the change that is on the way for Ephrata!  Locals have embraced the concept and many believe this is the nudge the town needs for other savvy businesses to look a little closer at the opportunity to become part of this newest small town resurgence.  Even more exciting is the fact that communities are embracing the small town U.S.A. movement and this movement is built on towns exactly like ours. When we give our guests recommendations, Main Street is always at the forefront, we do not want our guests to miss our "Best Kept Secres". There may be empty shops, but those shops are in beautiful and historic homes, that to any person slightly interested in architecture are beautiful to behold. Our selection of restaurants may be limited, but quality over quantity is always a plus and as we continue to grow and support the community, the opportunity for culinary creativity is endless as shown by our very own, Scratch Bakes. Started by Laura Will, Scratch Bakes has grown from a small shop in Brickerville to a newly renovated cafe and bakery on one of the busiest corners of Ephrata's main street (her cupcakes are to die for).   Business has been good for Scratch and the community is cheering them on as they continue to work on their expansion project!  Denise had a sneak peek last weekend at the renovations and is over the top excited!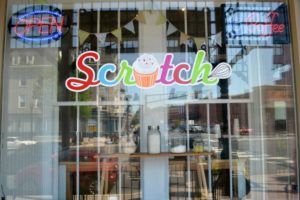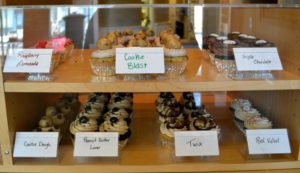 There may not be a "Art Row" like downtown Lancaster, but the combination of new and old gallery and craftsmanship stores can give any street a run for their money. In particular we love Sheldon's Gallery and Frame Shop. Mr. Tim Sheldon, along with his wife and family, have successfully run the gallery and frame shop for over 50 years. His talent to frame the simplest piece of art is unparalleled and his business wisdom is always well received in the community. Among the "new" we welcomed Hometown Refurnishing, a quality used furniture and home decor store that thrives on the re-purposing fad of this time. Housed in the historic Sprecher's Building, the beautiful restoration done to the building makes this a stop you can't miss.  Denise has found many gems in their carefully chosen inventory that have found a new home in the 1777 Americana Inn.
Looking for some entertainment?  Squeeze Spot offers workshops for budding artists and a unique shop to find that special gift or memoir of your visit to Lancaster County.  On a recent visit, I was amazed at the beautiful artwork, glassware, jewelry and whimsical items on display and ready for your purchase. You can always take a stroll and catch a movie in the beautiful historic Ephrata Main Theater.  The Theater has the newest movies and some wonderful special performances throughout the year, keep an eye on our website or get on Denise's email list to find out what is on the schedule!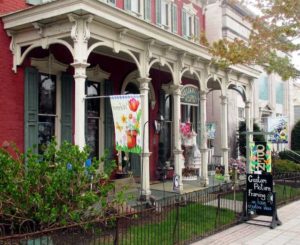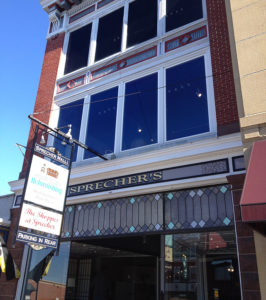 With all this said, Ephrata's Main Street does have a national claim to fame as it is home of the annual Ephrata Fair- this fair just so happens to be the largest street fair in the country and Main Street wears that honor proudly. Each year, the many blocks up and down the hill are transformed and walked upon by 1,000's of people each day. During this time, Main Street becomes the quintessential  Main Street U.S.A, it delights, it entertains, and it connects people in a way that no other street running through a small town or large city could. Our hope is to attract people not only during "fair time" but throughout the whole year, giving our small business owners a reason to be proud that they can say THEIR shop is on Main Street.
Welcome to Ephrata, welcome to our Main Street.