It's a rare day that my husband and I get to spend the entire daylight hours together, so when it happens we try and make the most of it, thus our latest excursion through Lancaster County to find the best cheese! The idea popped into my head late last week once I knew we had the day together and the weather made it feel like summer outside, I thought what better way to spend the day than driving the beautiful Lancaster backgrounds in search of hidden dairy gems. Googling, I came up with a 4 stop route which included farms, creameries, and dairies that took us from Leola to Morgantown and lasted about 3.5 hours. We gathered some essentials at home (cold pack, beverages, mustard, crackers, etc…) and started on our way.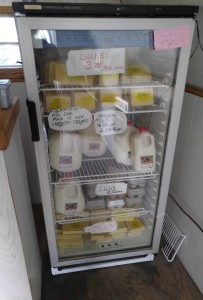 We set out and drove in and out of some of the most primitive and stunning Amish county I've seen, there were fields of baby greens, silos, windmills, and with the springtime air, lots of Lancaster county children riding their bikes and playing outside. At the end of our journey to our first location, we pulled up to Breezy Meadows Diary, only to be described as your typical weathered farm with cows and hay and smiling faces. The driveway lead along the home of the dairy owners and stopped in front of a 5X8 shed with an OPEN sign. When you entered the shed, ahead was a mini refrigerator stocked with fresh raw cow's milk, a variety of artisanal cheeses, and cage free brown eggs. To either side of you there were ledges filled with seasonal produce and local raw honey, both offered for a considerable reasonable price. The best part of this tiny little shop was the complete faith in their honor payment system (something we found to be a trend among these stops). You simply write your name, items you're taking, and the amount you're leaving and head out, we walked away with a homemade Horseradish Cheddar and a mason jar of local clover honey for $11.00!
Stop #2 took us 10 minutes down the road to Misty Creek Goat Farm, a stop NOT TO BE MISSED in my opinion. When you turn onto the farm's property you pass by a charming one room school house complete with see-saw and hopscotch lines. The cheese shop, this time in a slightly larger shed was accompanied by a variety of homemade goat soap of all flavors and designs. The room, which couldn't have been more than 12 feet long and 8 feet wide held a large refrigerated case on the right wall, inside the case, some of the best goat cheese you will ever find. Fresh from 10 feet away, this cheese varied from blues to manchegos to a new take on Greek feta cheese, and all of them delicious. This was my favorite stop of the day, each cheese was situated next to a tasting plate so you could sample to your heart's desire. We walked away with a fantastic Lancaster Bleu Cheese but probably could have taken the lot if it was up to me (for BLUE CHEESE LOVERS, the extra sharp Leacock Blue is not to be missed!) Again, we paid via the Lancaster honor system and headed on our way.
Stop #3 took us over and under several made and wooden bridges to the Groffdale Meadows Dairy where we were welcomed by two small children playing on the porch and their mother knitting away, all enjoying the sunshine on their faces. The shop was the first building we had actually entered that day where the farmer greeted us, told us several suggestions for cheeses and checked us out. After inquiring about his cheese and listening to his recommendation, we left with a Smoked Cheddar and Hot Pepper Cheddar.
Finally getting hungry for our cheese, we made our last stop at the ever popular September Farms. This great country store and market has an in house kitchen, bakery, and creamery where a majority of its products are made. We decided to slay our hunger with some gourmet grilled cheese sandwiches, both of which I would highly recommend to anyone passing by the area. My husband choose an Italian grilled cheese while I went with a local favorite entitled the Honeybrooker. This sandwich was one of a kind featuring locally roasted turkey, house made bacon, tomato, house made cheddar cheese, and 1000 island dressing, all pressed between freshly baked bread. After cheese tasting all morning, this sandwich and eating outside amongst friendly faces was the perfect way to end our tour. If you want to simply stop at September Farms and taste their cheese, they have a wonderful tasting station where each cheese can be tested before you take some home. You also don't want to miss the hand-dipped ice cream stand where they feature anything from standard chocolate and vanilla to turtle and rocky road.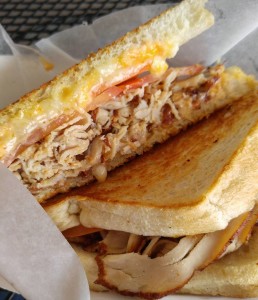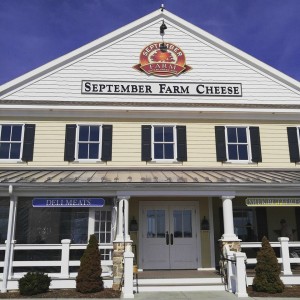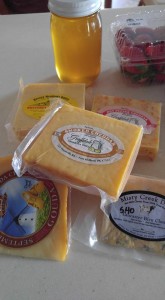 Overall, the date day was a success and I highly recommend next time you're staying with us at the 1777 Americana Inn Bed & Breakfast to try this out of the ordinary tour and treat your taste buds to some of the best dairy products this side of the Mississippi!